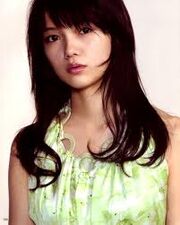 Ai Takano(高野愛; Takano Ai) is a current first generation member of Hello! Project girl group LOVE Musume.
PROFILE
Nicknames: Ai-chan, Rabu-san, Aiya
Birthday: August 31, 1997 (Age 18)
Birthplace: Ginowan, Okinawa, Japan
Charmpoint: Strong singing voice
Weakpoint: Can be too energetic at times
Favorite Foods: Sweet & sour chicken, Hi-chews, apples
Least Favorite Foods: Spicy foods, pickles, hot cinnamon candies
Favorite Subject: Foreign Languages
Least Favorite Subject: Physical Education
Motto: "Learn from the past, live in the prensent, look toward to the future."
Favorite English Word: Hope
LOVE Musume Color: 

Lavendar
Favorite Band: Morning Musume
Favorite Flower: Lavender
Favorite Morning Musume Song: "Ren'ai Revolution 21"
Favorite LOVE Musume Song: "BLUSH :-*"
Favorite Manga: "Boku wa Kisu de Uso wo Tsuku", "Pika Ichi", "Seiyuu Ka!"
Hello! Project Groups:
LOVE Musume (2012- Present)
HISTORY
Early Life:
On August 31, 1997, Ai was born as the oldest child to a couple whose names are undisclosed in Ginowan, Okinawa, Japan. Her father worked as a bookshop owner while her mother is now a cashier at the bookshop.
2008:
In late 2008, Ai had gained a special interest in Morning Musume and Hello! Project after listening to Morning Musume's single "Ren'ai Revolution 21" playing on the radio one day at a friend's house. The song later aspired her to join Hello! Project someday in the future.
2010:
In early 2010, Ai's father had died of a heart attack while preparing breakfast for the family on Ai's younger brother's birthday; this shocked the family and they soon had a funeral for him the month after his death. Ai and her family later moved to a new house and both she and her younger siblings transferred to a new school. At this new school, she later became best friends with SECRET Otoko member Hikaru Hoshimoto and future LOVE Musume second generation member Mayu Kinoshita.
2012:
In 2012, Ai auditioned for LOVE Musume's first generation and later succeeded in becoming a member.
TRIVIA
She is best friends with SECRET Otoko member, Hikaru Hoshimoto, and also shares the same birthday with him; celebrating with late night karoke. Many fans had thought of them as a couple because of this, but Hikaru posted on his official blog that they are just friends. Although, he did admit that he had a crush on her once during middle school.
She would love to study abroad someday in the future after her activities in LOVE Musume.
On her official Twitter page, she admitted that she has never had a real crush before, then jokingly stated, "But, if I could in the future... I wonder who would it be? Hikaru-kun?! :P."
She stated that if she wasn't in LOVE Musume; she would save up money to study abroad in the States.
She is an otaku.
FILMOGRAPHY
[2014.??.??] Tenso no Dai Machigai  (as Mizuki Sohma) Notes: first leading role.
SLIDESHOW
Ad blocker interference detected!
Wikia is a free-to-use site that makes money from advertising. We have a modified experience for viewers using ad blockers

Wikia is not accessible if you've made further modifications. Remove the custom ad blocker rule(s) and the page will load as expected.