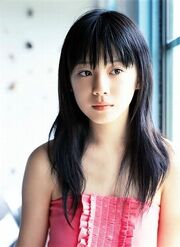 Akari Nogami is ( 野上あかり; Nogami Akari) a current second generation member of Hello! Project girl group LOVE Musume.
PROFILE:
Name: Akari Nogami
Nicknames: Akari-chan, RiRi, HaiHai Girl
Birthdate: December 15, 1999 (Age: 13)
Birthplace: Higashihiroshima, Hiroshima, Japan
Charmpoint: Her wavy layers
Weakpoint: Being able to barely say 'No' to any request
Favorite Foods: Coconut shrimp, tempura vegetables, brocolli
Least Favorite Foods: Sushi, sashimi, taro
Favorite Subject: Lunch
Least Favorite Subject: Physical Education
Motto: "Turn that frown upside down!"
Favorite English Word: Smile
LOVE Musume Color: Emerald
Favorite Band: Morning Musume
Favorite Flower: Orange blossom
Favorite Morning Musume Song: "Memory-Seishun no Hikari"
Favorite LOVE Musume Song: "DOKI DOKI!~ Kono Kimochi Nandesuka!"
Favorite Manga: "Kimi ni Todoke", "Otomen", "Strobe Edge"
Hello! Project Groups:
LOVE Musume
Trivia
She is the younger cousin of first genertion member of all-male group SECRET Otoko, Yukito Nogami.
She considers Reina Tanaka as her oshimen out of Morning Musume.
She has a younger brother named Yuzuru.
She is a huge otaku.
If she wasn't in LOVE Musume; she would want to become an actress.
Filmography
[2014.??.??] Tenso no Dai Machigai  (as Yukiyo Shimizu)
Ad blocker interference detected!
Wikia is a free-to-use site that makes money from advertising. We have a modified experience for viewers using ad blockers

Wikia is not accessible if you've made further modifications. Remove the custom ad blocker rule(s) and the page will load as expected.