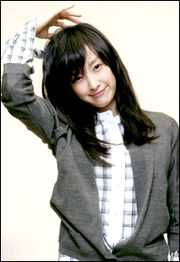 Akiko Nakamura(中村明子 ; Nakamura Akiko) is a current first generation member and current sub-leader of EXTREMEX all-girl, trio group, CHO Kira.
Profile:
Name: Akiko Nakamura
Nicknames: Aki-pon, Akiko-chan, Akiki
Birthdate: July 4, 1995 (Age: 19)
Birthplace: Kyoto, Kyoto, Japan
Charmpoint: Her boyish style
Weakpoint: Always arriving at a party with messy, bed-head hair
Favorite Foods: Onigiri, ice manju, green tea ice cream
Least Favorite Foods: Guava, shiitake mushrooms, bread pudding
Favorite Subject: Mathematics
Least Favorite Subject: Physical Education
Motto: "Just because people make fun of who you are; it doesn't mean that you should underestimate yourself!"
Favorite English Word: Unique
CHO Kira Color: Neon Yellow
Favorite Band: Passpo
Favorite Flower: Japanese clover
Favorite Passpo Song: "Kimi wa Boku wo Suki ni naru"
Favorite CHO Kira Song: "Tada, Soreha Pasu Shimashou...Watashi no Ai <3"
Favorite Manga: "Otomen", "Tonari no Kaibutsu-kun", "Beast Master"
Hello! Project Groups:
CHO Kira (2012-Present)
Trivia
She is considered to be the most tomboyish member out of the CHO Kira girls.
She considers fellow CHO Kira member, Koharu Hidari, as a younger sister.
She does not like wearing dresses.
Her parents are divorced, and she currently lives with her mom and younger brothers.
If she wasn't in CHO Kira; she would continue in her studies.
Ad blocker interference detected!
Wikia is a free-to-use site that makes money from advertising. We have a modified experience for viewers using ad blockers

Wikia is not accessible if you've made further modifications. Remove the custom ad blocker rule(s) and the page will load as expected.