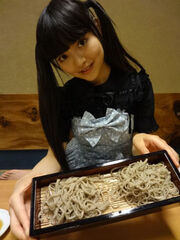 Ami Tachibana(橘亜美; Tachibana Ami)  is a current first generation of the Hello! Project all-girl, seifuku-themed group Dorimuhato.
PROFILE
Name: Ami Tachibana
Nicknames: Amimi, Ami-chan, Ami-chin
Birthday: April 28, 2002 (Age: 12)
Birthplace: Fukuoka, Fukuoka, Japan
Charmpoint: Always putting her hair up
Weakpoint: Talks too much at times
Favorite Foods: Udon noodles, mochi, spaghetti
Least Favorite Foods: Mushrooms, papaya, guava
Favorite Subject: Lunch
Least Favorite Subject: Physical Education
Motto: "Worrying brings trouble, but happiness brings joy to the heart."
Favorite English Word: Joy
Dorimuhato Color: Orange
Favorite Band: Morning Musume
Favorite Flower: Japanese cherry blossom
Favorite Morning Musume Song: "Maji Desu ka Ska!"
Favorite Dorimuhato Song: "Watashi no Ai wa, Kaere"
Favorite Manga: "Kimi ni Todoke", "Kamisama Hajimemashita", "Itazura na Kiss"
Hello! Project Groups:
Dorimuhato
TRIVIA
She has an older brother named Tomoe who is a member of the Dorimuhato brother group, SECRET Otoko.
She is from the same city as former Morning Musume member Reina Tanaka.
She knows how to play the piano beautifully.
She is a huge fan of YouTube dancer and eleventh and twelfth Morning Musume generation auditionee, Cuca.
If she wasn't in Dorimuhato; she would want to become a mangaka.
Ad blocker interference detected!
Wikia is a free-to-use site that makes money from advertising. We have a modified experience for viewers using ad blockers

Wikia is not accessible if you've made further modifications. Remove the custom ad blocker rule(s) and the page will load as expected.