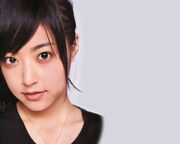 Profile:
Name: Asami Kaito (怪盗麻美; Kaito Asami)
Nicknames: Asasa, Toto, Sammi
Birthdate: April 19, 1998 (Age: 16)
Birthplace: Fukuoka, Fukuoka, Japan
Charmpoint: Her side bangs
Weakpoint: Bad with make-up
Favorite Foods: Spaghetti, mentaiko bread, green tea ice cream
Least Favorite Foods: Octopus, guava, tomatoes
Favorite Subject: Japanese
Least Favorite Subject: Mathematics
Favorite English Word: Cute
Favorite J-pop Group: Morning Musume
Favorite Morning Musume Song: "Wagamama Ki no Mama Ai no JOKE"
Favorite Manga: "Otomen", "Itoshi Kingyo", "Orange (Takano Ichigo)"
Trivia:
She is an only child.
She says that if she could debut in any group; it would have to be Morning Musume.
She is close friends with fellow Kenshuusei members Rise Suzuki and Erina Nogami.
She is said to be the most talkative among the Kenshuusei.
The other Kenshuusei members stated that she isn't very good at being organized.
People say that she looks similar to actress Inoue Mao.
Her favourite Morning Musume member is Eguchi Rin and her second favourite is Ishida Ayumi.