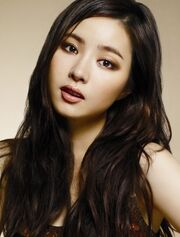 Aya Yoshimoto
is a current member of W.A Access and the mini unit FRAGRANZA.
Profile
Name: Aya Yoshimoto (吉本綾; Yoshimoto Aya)
Nicknames: Ayaya, YanYan, Yossie
Birthday: October 21, 1996 (Age: 18)
Charmpoint: Sweet singing voice
Weakpoint: Poor dancing skills
Favorite Foods: Sukiyaki, Hi-chew, calimari
Least Favorite Foods: Sushi, sashimi, squid
Favorite Subject: History
Least Favorite Subject: Mathematics
Favorite English Word: Mystery
Favorite Japanese Artist: Aya Matsuura
Favorite Aya Matsuura Song: "100 Kai no Kiss"
Favorite Manga: "Pika Ichi", "Orange" (TAKANO ICHIGO), "Tonari no Kaibutsu-kun"
EXTREMEX Groups:

EXTREMEX Kenshuusei (2013-2015)
W.A Access (2015-)
W.A Access Color: Yellow-Green
FRAGRANZA Color: Hot Pink
Trivia
She has a younger sister named Mika who is thinking about joining either EXTREMEX Kenshuusei or Hello! Project Kenshuusei once she is older.
She stated that if she could debut in any group it would be LOVE Musume.
She looks up to former Hello! Project soloist Aya Matsuura and former Morning Musume member Hitomi Yoshizawa.
She was given the nicknames 'Ayaya' and 'Yossie' by her parents; her dad gave her the nickname 'Ayaya' after her favorite Hello! Project soloist Aya Matsuura and her mom gave her the nickname 'Yossie' after their family's last name and because of her Morning Musume idol Hitomi Yoshizawa.
She auditioned for Dorimuhato's first generation but failed the third round.
She has been a Hello Project fan since the age of 6.
If she can have something that her bandmate Akari has, it's her visuality.
Her favourite English singer is Vanessa Hudgens. She is currently learning English.
Ad blocker interference detected!
Wikia is a free-to-use site that makes money from advertising. We have a modified experience for viewers using ad blockers

Wikia is not accessible if you've made further modifications. Remove the custom ad blocker rule(s) and the page will load as expected.