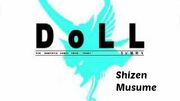 DoLL
is
Shizen Musume
's 4th single. It is a cover song by TЁЯRA. It is set to be release August 1, 2013. It is to have 4 editions: 1 regular and 3 limited. 
Tracklist
Regular Edition
DoLL
Zero
DoLL (Instrumental)
Limited Edition A
CD
DoLL
Stars
DoLL (Instrumental)
DVD
DoLL (MV)
Making of
Limited Edition B
CD
DoLL
1/6 Billionth
DoLL (Instrumental)
Limited Edition C
CD
DoLL
Eden
DoLL (Instrumental)
DVD
DoLL (Dance Shot)
Meet the girls
Song Information
DoLL

Original Song: 

TЁЯRA

Arrangement: Tsunku

Autotunong: Akami

Chorus: Ala

Vocals:

​

Kanazawa Keiko, Ishida Kaori, Mochizuki Hiromi (Main)

Kia Su Ling,  Fukumoto Emi (Minor)
Song Comment
DoLL is a very mysterious, sad song. It's very tricky to sing. Shizen Musume is going to have a very different sound from now on.
Trivia
All songs will be cover songs.
It's the first single not to feature Minami Yuki.
This is the Debut single of the 2nd generation.
Ad blocker interference detected!
Wikia is a free-to-use site that makes money from advertising. We have a modified experience for viewers using ad blockers

Wikia is not accessible if you've made further modifications. Remove the custom ad blocker rule(s) and the page will load as expected.