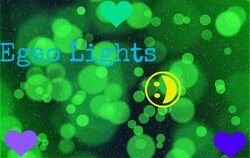 Egao Lights 
(Smiling Lights; 笑顔ライト)
is the third joint group of Hello! Project, made for the newer groups. The group made it's official debut in May of 2013.
Members
their group color is Bomber
their group color is  Onyx
Higashiyama Midori (Sub Leader)
their group color is Thistle
Juice=Juice
their group color is Forest
Miyazaki Yuka
Kanazawa Tomoko
Takagi Sayuki
Miyamoto Karin
Uemura Akari
their group color is Flame
their color is Grape
Former Members
Juice=Juice
Otsuka Aina (Left;July 5,2013)
Singles
[2013.09.21] GET UP! Kyuuto Onna to Otoko! (GET UP! Cute Girls and Boys!)
[2014.09.17] TENSION / Choujo ni Totatsu  (TENSION / Reach the Top)
Trivia
Tsunku decided to give the groups "random" colors to give them a "young spark".
Egao Lights is filled with groups that debuted in late 2012-present.
Ad blocker interference detected!
Wikia is a free-to-use site that makes money from advertising. We have a modified experience for viewers using ad blockers

Wikia is not accessible if you've made further modifications. Remove the custom ad blocker rule(s) and the page will load as expected.