Happy Jikan 12th Birthday Concert Tour Fall ~Charge!Fight!My Love!~ is Happy Jikan's two year anniversary concert.It will be held on the 12th birthday of Happy Jikan,since the groups debut in 2000.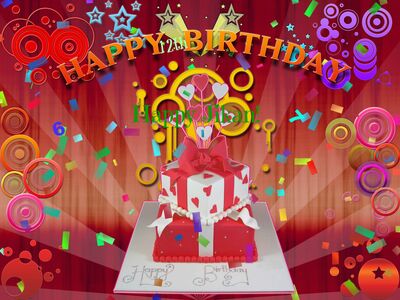 Setlist
Songs are performed by all members unless indicated otherwise.
OPENING

Tantei Shoujou (without Hsaoi Zhe)

PATI (without Hsaoi Zhe)

MC1

UP! THE SKY!
Girls!Be Ambitious ~THE PRESSURE IS ON~
Nani Ka,Nani Ka...
VTR
Hold On!
Wǒ zài nǎlǐ?( Wang Dao Ming Solo, ft. Hello! Project Foreigners)
Ài (Seventh Generation)
Kuàilè de nǚhái! (Sixth Generation; Bui Shun and Zeng Yun back up dancers)
RAINBOW
MC2
MIRAI LOVE (Sixth Generation)
Peace!(Hello!Pro Foreigners)
Don't Say Lazy (Hello!Pro Foreigners)
MC3 (Hello!Pro Feoreigners)
Medley:
SHOOTING STAR~GIRLS DREAM~
Dakara?
Dear Mirai
Tomodachi to Tomodachi
Charge! -Seventh Generation
Fight! -Sixth Generation
My Love!
<Encore>
Ogoe De!!
MC4
My Love!
Fetaured Members
Happy Jikan

Sixth Generation: Hoi Daiyu,Wang Dao Ming,Wu Jiao,Aoi Xiao,Zheng May Ai,Sun Fang & Zheng Mei
Seventh Generation (Debut): Zeng Yun,Joe Song,Hsaoi Zhe & Bui Shun
Trivia
The 11/21/12 concert until the 12/02/12,Bui Shun did not perform due to a sore throat, so her generation mates took over her parts.
This is the first  Happy Jikan concert to perform the 2011 single "Hold On!"
This is the first Happy Jikan concert to feature the seventh generation 
The Hello!Project Foreigners will be selling their second cover single,Don't Say Lazy,at the concerts on the following days:
November 15, 2012
November 21, 2012
December 12, 2012
November 30, 2012
Schedule
Large Harmony Hall (10-25-12)
Zepp Tokyo (10-29-12 and 11-04-12)
Budokan (11-10-12)
Shibuya AX (11-15-12)
Tokyo DOME City Hall (11-21-12 and 11-28-12)
Casals Hall (11-30-12 and 12-02-12)
New National Theatre Tokyo (12-05-12 and 12-10-12)
Suntory Hall (12-12-12 and 12-13-12)
NHK Hall (12-18-12)
Sogakudo Concert Hall (12-21-12 and 12-23-12)
Nippon Seinen-kan Hall (12-24-12 and 12-26-12)
Bunkamura (12-28-12 and 12-30-12)
Total: 20 Shows