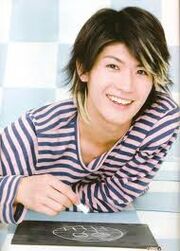 Jun Mizoguchi(溝口ジュン; Mizoguchi Jun)  is a current first generation member and current leader of the Hello! Project all-male group SECRET Otoko.
PROFILE
Real Name: Junnosuke Mizoguchi (溝口淳之介; Mizoguchi Junnosuke)
Stage Name: Jun Mizoguchi (溝口ジュン; Mizoguchi Jun)
Nicknames: Miso-san, Jun-kun, Rida-senpai
Birthday: December 5, 1992 (Age 24)
Birthplace: Tokyo, Japan
Charmpoint: Yellow Highlights
Weakpoint: Weak dancing skills
Favorite Foods: Taoyaki, egg rolls, green tea ice cream
Least Favorite Foods: Taro, sashimi, bone marrow
Favorite Subject: Japanese
Least Favorite Subject: Mathematics
Motto: "It's never too late!"
Favorite English Word: Japan
SECRET Otoko Color: Gold
Favorite Band: Hey! Say! JUMP
Favorite Hey! Say! JUMP Song: "Time"
Favorite SECRET Otoko Song: "SECRETS :-O"
Hello! Project Groups:
SECRET Otoko
TRIVIA
Jun and SECRET Otoko co-member, Kai Kawasaki, are currently the oldest members of the group at twenty-four.
He is close friends with SECRET Otoko sub-leader and twin brother of LOVE Musume's Sakiko Kawasaki, Kai Kawasaki.
He has a strong hatred for raw foods and taro.
He's more active at night.
He says that his ideal girl should be: kind, thoughtful, a good cook, loves to watch the stars, and has a great personality.
He is currently enrolled at Waseda University, majoring in Performing Arts.
He once wanted to join Johnny's as a child but decided that he would probably have trouble dealing with all the pressure.
His dream is to travel the world.
He is not good under pressure.
He is afraid of heights.
FILMOGRAPHY
[2014.14.2] Tenso no Dai Machigai (as Takuya Nakajima)
Ad blocker interference detected!
Wikia is a free-to-use site that makes money from advertising. We have a modified experience for viewers using ad blockers

Wikia is not accessible if you've made further modifications. Remove the custom ad blocker rule(s) and the page will load as expected.