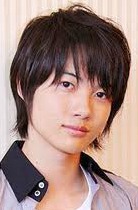 Keitaro Tanaka (田中慶太郎; Tanaka Keitaro) is a current member of the EXTREMEX group The SECRET Trainees Group and the Trainee group 2uel 3rial (pronounced as Duel Trial).
Profile:
Name: Keitaro Tanaka (田中慶太郎; Tanaka Keitaro)
Nicknames: Kei-kun, Taro-chan, KeiKei
Birthdate: December 16, 1997 (Age; 16)
Birthplace: Kanagawa, Japan
Charmpoint: His cunning personality
Weakpoint: Clumsy
Favorite Foods: Onigiri, takoyaki, ramen
Least Favorite Foods: Mushrooms, sushi, pickles
Favorite Subject: Japanese
Least Favorite Subject: Physical Education
Favorite English Word: Love
Favorite Japanese Group: NEWS
Favorite NEWS Song: "Full Swing"
EXTREMEX Groups:
The SECRET Trainees Group (2013- Present)
2uel 3rial (2014- Present)
Trivia:
He is the younger brother of EXTREMEX Kenshuusei member Megumi Tanaka.
He is said to look like SECRET Otoko first generation member Hikaru Hoshimoto and ex-actor Shogo Sakamoto.
He is a fan of tokusatsu and is an otaku.
He likes it when fans say "kakkoi!~" at him when he is singing.
His ideal girl: friendly, a good singer, loves music, and loyal.
Slideshow:
Ad blocker interference detected!
Wikia is a free-to-use site that makes money from advertising. We have a modified experience for viewers using ad blockers

Wikia is not accessible if you've made further modifications. Remove the custom ad blocker rule(s) and the page will load as expected.