Khairan

Birthday

March 31, 1999

Also Known As

Khai, Pie (Reana), Gay (Kristen)

Years Active

2012-present

Age

14

Member Color

Grey

AQW Account

Deceiverz (Level 51)
Khairan is a member of AES under Believe!. He is the 1st Male member of Hello! Project. He then transferred to Avex along with majority of AES.
Profile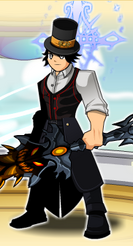 Birth Name: N/A
Stage Name: Khairan
Nicknames: Khai
Birthdate: March 31, 1999
Birthplace: Singapore
Bloodtype: N/A
Height: 5'5
Specialty: Dexterity
Hobby: Playing games, reading
Looks up to: Shimizu Saki
Hello! Project Status: 2012-Present
In AES: 2012-Present
AES Color: Grey
Motto: "Destiny will be my Legacy."
Favorite Words: Cake
Favorite Food: Ramen
Disliked Food: Nothing
Favorite Colors: Legion
Favorite Flowers: Orchid
Favorite Season: Spring
Favorite Singers: Shimizu Saki
Favorite Animals: Hamsters
Favorite Songs: WANT!
Hello! Project Groups:
History
2012
December 19, Reana made him listen to WANT! by Berryz Koubou. He then stated that he has been listening to the song continuously and has stated Shimizu Saki as his favorite member.
Trivia
He's given Lala membership on AQW before.
He once quit AQW and let Reana use his account.
Outside of AES, he is closest to Reana and Kristen.
He can speak Malay, Chinese and English.
Reana often complains about his bad grammar, though she actually laughs at it.
Known for being prominent in levelling to the highest level cap.
He has been hacked for 6 times.
He has bought member for all of his accounts so far.
Says that if he gets hacked again, he'll quit AQW. (Which means graduating from AES as well.)
He was an AQW player for 5 years.
Ad blocker interference detected!
Wikia is a free-to-use site that makes money from advertising. We have a modified experience for viewers using ad blockers

Wikia is not accessible if you've made further modifications. Remove the custom ad blocker rule(s) and the page will load as expected.