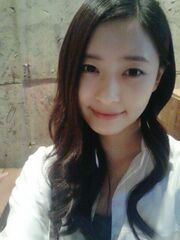 Kimberly Park(Japanese:パークキンバリー; Park Kimberly. Hangul:공원 킴벌리 ; Park Kimberly)  is a current first generation member of Hello! Project girl group LOVE Musume.
PROFILE
Name: Kimberly Park
Nicknames: Kimmy-chan, Kim-chii, KiKi
Birthdate: October 3, 1996 (Age 18)
Birthplace: Seoul, South Korea
Charmpoint: Being able to memorize a song's lyrics in only a couple of minutes
Weakpoint: Talks to much at times
Favorite Foods: Dimsum, Korean-styled ramen, BBQ
Least Favorite Foods: Kimchi, Nacho Cheese Doritos, honeydew
Favorite Things About Her Hometown: National Museum of Korea; the "Five Grand Palaces"
Favorite Subject: Social Studies
Least Favorite Subject: Mathematics
Motto: "Amudo dangsin hal su eobs-seubnida ...hajiman dangsin-eun hal su issseubnida!" (Korean for: "No one can be you...But YOU!")
Favorite English Word: Unique
LOVE Musume Color: Red
Favorite K-pop Bands: 2NE1 & SHINee
Favorite Songs By Them: "I Don't Care" & "A-yo"
Favorite Flower: Syriacus
Favorite LOVE Musume Song: "Iro Kaiten"
Hello! Project Groups:
LOVE Musume (2012- Present)
HISTORY
1996:
Kimberly was born on October 3, 1996 to an undisclosed couple in Seoul, South Korea. Her father is a music producer and her mom is a high school gym instructor.
2008:
She auditioned for a spot in Hello! Project Korea Kenshuusei and became a member. She stayed in the group for two years.
2011:
While on a family vacation trip, Kimberly was scouted by Makoto, a friend and Sharam Q bandmate of Tsunku and was asked if she wanted to meet with someone because he thinks her talents may be presentable to a Japanese audience. At first, she disagreed with the chance to become a singer, because she really wanted to be an actress back home in South Korea. But, because of Makoto's constant persistance, Kimberly decided to give it a shot.
2012:
Along with Mei Liu, Kimberly was picked to become one out of the two first foreign members of LOVE Musume. She thus became a first generation member.
TRIVIA
She and her best friend and co-LOVE Musume member, Mei Liu, are the first LOVE Musume members added into the group and are also the first foreign members that the group ever had.
She and Mei Liu take daily Japanese lessons to improve their fluency in the language.
She is not related to popular K-pop singer and actress, Sandara Park, her brother, Park Sung Yeon, or Park Sung Tae, and Park Chan Rin; Park Ae Rin.
She considers Sandara Park as her oshimen out of 2NE1.
If she wasn't in LOVE Musume; she would want to go on as a actress back in South Korea.
FILMOGRAPHY
[2014.??.??] Tenso no Dai Machigai (as Karen Hwang)
Ad blocker interference detected!
Wikia is a free-to-use site that makes money from advertising. We have a modified experience for viewers using ad blockers

Wikia is not accessible if you've made further modifications. Remove the custom ad blocker rule(s) and the page will load as expected.