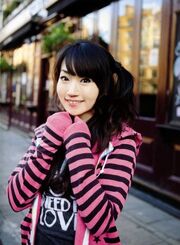 Kira Sato (佐藤キラ; Sato Kira) is a current first generation member of Hello! Project and
EXTREMEX
's trio girl group
CR8ZY Love
.
Information 
Name: Kira Sato (佐藤キラ)
Nicknames: Kirara, Kira-rin, Kira-chan
Birthdate: February 14, 1998 (Age: 16)
Birthplace: Fukuoka, Fukuoka, Japan
CR8ZY Love Color: Silver (former: Bronze)
EXTREMEX Groups:
Charmpoint: Giving out high energy
Weakpoint: Origami
Favorite Foods: Sweet & Sour pork, yakisoba, beef stew
Least Favorite Foods: Shiitake mushrooms, sushi, sashimi
Favorite Subject: Japanese
Least Favorite Subject: Physical Education
Motto: "Sparkle from the inside to the out."
Favorite English Word: Sparkle
Favorite Band: Buono!
Favorite Flower: Japanese cherry blossom
Favorite Buono! Song: "Kiss! Kiss! Kiss!"
Favorite CR8ZY Love Song: "Mukankeina Kimochi"
Favorite Manga: "Seiyuu Ka!", "Otomen", "Strobe Edge"
Trivia:
She has a younger brother named Tsukasa.
She says that she can't stand the noise of flies.
She has stated herself that she does not count origami as one of her skills.
She stated that her realationship with her brother is a bit competitive.
If she wasn't in CR8ZY Love; she would try modeling.
Ad blocker interference detected!
Wikia is a free-to-use site that makes money from advertising. We have a modified experience for viewers using ad blockers

Wikia is not accessible if you've made further modifications. Remove the custom ad blocker rule(s) and the page will load as expected.