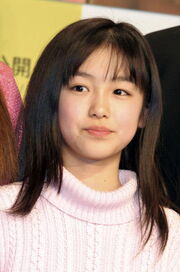 Koharu Hidari(ひだり小春 ; Hidari Koharu) is a current first generation member of
EXTREMEX
all-girl, trio group,
CHO Kira
.
Profile:
Name: Koharu Hidari
Nicknames: Koha-chan, Haruru, W-san
Birthdate: May 2, 1998 (Age: 16)
Birthplace: Kanagawa, Kanagawa, Japan
Charmpoint: Has excellent writing skills
Weakpoint: Gets sea-sick easily
Favorite Foods: Glazed donuts, mochi, mentaiko bread
Least Favorite Foods: Sashimi, raw seaweed, pickles
Favorite Subject: Japanese
Least Favorite Subject: Art
Motto: "Be thankful of the talents you have received."
Favorite English Word: Japan
CHO Kira Color: Neon Blue
Favorite Band: S/mileage
Favorite Flower: Apple blossom
Favorite S/mileage Song: "UCHOUTEN Love"
Favorite CHO Kira Song: "Anata ni Heiwa to Ai, Watashi no Saiai Nihon..."
Favorite Manga: "Ao Haru Ride", "Seiyuu Ka!", "Koko Debut"
Hello! Project Groups:
CHO Kira (2012- Present)
Trivia
She has an older sister named Megumi and a younger brother named Yoh.
She received her nickname 'W-san' from her brother because he said that their family's last name is the same as one of the main characters' names from the tokusatsu show, Kamen Rider W.
She is close friends with current Momusu member Riho Sayashi.
She has been practicing the piano since she was two.
If she wasn't in CHO Kira; she would try making it big in the acting business.
Ad blocker interference detected!
Wikia is a free-to-use site that makes money from advertising. We have a modified experience for viewers using ad blockers

Wikia is not accessible if you've made further modifications. Remove the custom ad blocker rule(s) and the page will load as expected.