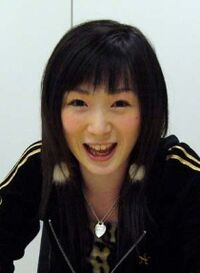 Kosaka Mamiko is a 1st generation Night St☆r member. She was born on August 21, 1996.
History
2013
At the beginning of April, she was heard by one of Tsunku's scouts. Tsunku then heard this and wanted to add her to one of the new groups he was creating. After tracking her down and asking her, she agreed to join Hello! Project as a member of Night St☆r.
In the beginning of July she cut her hair. 
Profile
Name: Kosaka Mamiko
Birthday: August 21, 1996 (Age 16)
Member Color: Violet
Origin: Kyoto, Japan
Height: 162 cm
Blood Type: B
Looks up to:  Oda Sakura
Western Zodiac: Virgo
Eastern Zodiac: Rat
Hobbies: Singing, writing, caligraphy
Favorite Food: Cherry Cakes
Disliked Food: Lemon, Celery
Favorite Flower: Cherry Blossom
Favorite Subject: Japanese
Least Favorite Subject: Math
Singles Participated In
Trivia
Obsessed with everything related to a cherry blossom.
Is the least mature member.
Tanaka Aya has remarked that she can be very loud.
Shares the same last name as Riyu Kosaka but is not related.
Good friends with Hagiwara Mai, Muramoto Chie.
Only member not to audition for the group.
Is good at singing.
Thinks that Oda Sakura is very cute.
She is a main singer of the group,
Ad blocker interference detected!
Wikia is a free-to-use site that makes money from advertising. We have a modified experience for viewers using ad blockers

Wikia is not accessible if you've made further modifications. Remove the custom ad blocker rule(s) and the page will load as expected.