Lin Ju
郦居


Information
Birthdate
July 30, 1999
Birthplace
Beijing, China
Professional Information
Occupation
Singer, Idol, Actress, Model
Years Active
2010-Present
Agency
UP FRONT PROMOTION (2013-Present)
Label
Up Front Works (2013)
BH Records (2013-Present)
Group
Happy Jikan
Generation
8th Generation
Associated Acts
H.P. Super Idols, Hello!Project Foreigners
"
I want to become the best entertainer out there! I'll do my best from now on to make sure my dream happens!
"

–Lin Ju, December 2014
Lin Ju (郦居) was born July 30, 1999. Lin is a former fifth generation member of the Hello!Project Foreigners and a current eighth generation member of Happy Jikan. Lin is also a former Up-Front Kenshuusei.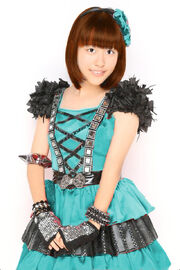 History
2010- 2012
In July 2010, Ju joined Up Front Kenshuusei as a transfer member from China.
Around December 2012, Ju left the program to audition for Ka-wa-ii!.
2013
In January, Ju participated in the ~Ka-wa-ii-Chan!~Be Alive Today!~ Ka-wa-ii Second Generation!~ auditions but failed to passed.
On March 17, Ju joined as a fifth generation Foreigner. It was also revealed that she is currently participating in Happy Jikan's 8th generation auditions. Her audition song was MIRAI LOVE by Happy Jikan.
During the auditions, Ju cut her hair.
April 10, it was announced that Lin Ju had passed Happy Jikan's eighth generation auditions along with Tang Juan,Lee Mia,and surprise addition Peng Shan.
On April 11, Ju dyed her hair brown.
Profile
Name: Lin Ju
Nickname: Lili (リリー), NakkiChu (ナッキチュー)
Birthplace: Beijing, China
Birthdate: July 30, 1999
Bloodtype: AB
Height: 152 cm
Hello! Project Status

2013-03-17 Foreigner
2013-03-17 Member
2013-04-10 Foreigner Graduated
2013-04-10 Happy Jikan Member

UP FRONT PROMOTION Status
Happy Jikan Color:

 

Sky Blue

(2013-2014)

Silver

(2014-Present)

Hello! Project Groups:
Up Front Groups:

​Up Front Kenshuusei (2010-2012)
Discography
Singles Participated In
DVDs
[2013.05.01] Greeting ~Lin Ju~ (e-Hello! DVD)
[2014.04.13] NEXT STEP
Magazines
Cover Girl
Featured on the cover
Works
TV Programs
Radio
[2013-] Happy Jikan 8ki RADIO
[2013-2014] Lin Ju CHINA TO NIPPON!
[2015-] Juju Radio!
Trivia
She resembles Oda Sakura in facial structure and hairstyle.
Her number one goal was to become a member of Happy Jikan, which she succeeded.
She had little activity in UFP due to her lack of Japanese but, after the Happy Jikan eigth generation auditions, Lin improved on her Japanese.
Lin wants to be the "childish yet reliable" one in her generation.
She's a big Happy Jikan fan
Has four dogs and six cats.
She's close friends with Eguchi Rin, Oda Sakura and Bui Shun.
Oda Sakura calls Ju NakkiChu.
Her first goods sold out in approximately one hour.
Fans state that she could become the next big thing in Hello! Project.
She was one of the most popular foreigners. 
She cried when she found out she was in Happy Jikan.
Her best friend in Happy Jikan is Bui Shun.
Her goal in Happy Jikan is to become popular and become a top dancer.
Her official Foreigner photo shows Ju with short hair since she cut her hair during training camp. The photo was supposedly taken on April 9, one day before Ju became a Happy Jikan member.
It's noted in an old interview she said:

"I don't think Zeng Yun takes her job seriously. She's a sad thing to see in HaJi, she doesn't work hard at all. If I had her spot, I would work hard to become center. She just sits there, and does nothing." However, in a more recent interview, she said her opinion of Zeng changed, as she didn't know Zeng on a personal level.

She usually clings onto Eguchi Rin or Hoi Daiyu.
She's extremely childish, but other Happy Jikan members considers her very responsible.
According to various H!P members, Lin has a very poisonous tongue.
Happy Jikan
Current Members
6th Gen: Hoi Daiyu (B), Wang Dao Ming (SB), Wu Jiao, Sun Fang, Zheng Mei
7th Gen: Joe Song, Hsaoi Zhe, Bui Shun
8th Gen: Peng Shan, Tang Juan, Lin Ju, Lee Mia

9th Gen: Long Haru, Rei Meifei

Former Members
1st Gen: Su Meili, Chen Jingfei, Zhou Jia
2nd Gen: Huang Ning, Xie Biyu
3rd Gen: Da Meihui
4th Gen: Yue Yuanjun
5th Gen: Yin Lu, Ruu Maya
6th Gen: Zheng May Ai, Aoi Xiao
7th Gen: Zeng Yun

Singles
01, 02, 03, 04, 05, 06, 07, 08, 09, 10, 11, 12, 13, 14, 15, 16, 17, 18, 19, 20, 21, 22, 23. 24, 25, 26, 27, 28, 29, 30, 31, 32, 33, 34, 35. 36, 37, 38, 39, 40, 41, 42, 43, 44, 45, 46, 47


MORNING JIKAN: Tomodachi Oh Tomodachi, Wakuteka Mirai Chance, Sayonara,Zàijiàn/Adventure!

Other: Busu ni Naranai Tetsugaku, Victory!

Albums
Original 01, 02, 03, 04, 05, 06, 07, 08, 09, 10, 11, 12, 13, 14, 15, 16
Mini 01, 02
Best 01, 02, 03
Related Units
Morning Musume, H.P ALL STARS, MORNING JIKAN, IidaChen, Hǎo yàng de!, LOVE ME, Peximoni, Hontomoni, Chuugoku no yoru, MoKanBeKiMaSu Ongaku, H.P SUPER IDOLS., Hello!Pro Kenshuusei, Hello!Project Foreigners, KA-WAII-ness, CHOU KAWAII, Aloha!, Un-crazy, HYPER HEARTS, PARTYPARTY, DYB!, Happy Jikan GG