Luna Saito is (斉藤ルナ; Saito Runa) a current second generation member of Hello! Project girl group LOVE Musume.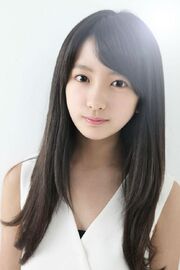 PROFILE:
Name: Luna Saito
Nicknames: Luna-chan, Lulu, Saito-chii
Birthdate: June 14, 1998 (Age: 15)
Birthplace: Kagawa, Kanagawa, Japan
Charmpoint: Being able to hold out high notes for a long amount of time
Weakpoint: Accident-prone
Favorite Foods: Takoyaki, spaghetti, mentaiko bread
Least Favorite Foods: Sushi, olives, sashimi
Favorite Subject: Music
Least Favorite Subject: Mathematics
Motto: "Japan, a place to have peace. Japan, a place to be happy. Japan, a beautiful and wonderful place."
Favorite English Word: Japan
LOVE Musume Color: Turqoise
Favorite Artist: Aya Matsuura
Favorite Flower: Water lily
Favorite Aya Matsuura Song: "LOVE Namida Iro"
Favorite LOVE Musume Song: "INVISIBLE... Dono yo ni Anata wa Anata no Tame ni Watashi no Ai o Miru Koto ga Dekinai"
Favorite Manga: "Kimi ni Todoke", "Otomen", "Kamisama Hajimemashita"
Hello! Project Groups:
LOVE Musume
Trivia
She says that she thinks that eleventh and twelfth Morning Musume auditionee, Cuca, should've had passed the second round of the twelfth auditions; she is a huge fan of hers.
She is an only child.
She is an otaku and loves cosplaying as her favorite anime/manga characters.
She is learning basic Mandarin for her foreign languages benefits.
If she wasn't in LOVE Musume; she would try gymnastics.
Filmography
[2014.??.??] Tenso no Dai Machigai  (as Haruna Yuzuki)
Ad blocker interference detected!
Wikia is a free-to-use site that makes money from advertising. We have a modified experience for viewers using ad blockers

Wikia is not accessible if you've made further modifications. Remove the custom ad blocker rule(s) and the page will load as expected.