Mayu Kinoshita is (木下まゆ; Kinoshita Mayu) a current second generation member of Hello! Project girl group LOVE Musume.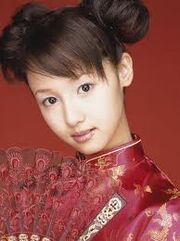 PROFILE:
Name: Mayu Kinoshita
Nicknames: Mayuyu, Mayu-chan, Pucca-pon
Birthdate: September 18, 1997 (Age: 17)
Birthplace: Ginowan, Okinawa, Japan
Charmpoint: Her Chinese-styled clothing and her odango buns
Weakpoint: Unable to read most English words
Favorite Foods: Sukiyaki, sweet & sour pork, dimsum
Least Favorite Foods: Jalapeno peppers, shiitake mushrooms, pickled vegetables
Favorite Subject: Foreign Languages
Least Favorite Subject: English
Motto: "Be unique! Be an individual! Be...YOU!"
Favorite English Word: Individuality
LOVE Musume Color: Magenta
Favorite Band: Kis-My-Ft2
Favorite Flower: Calla lily
Favorite Kis-My-Ft2 Song: "S.O.S. (Smile On Smile)"
Favorite LOVE Musume Song: "Dansu & Utau! Sore wa LOVE Musume Todesu! :P"
Favorite Manga: "Pika Ichi", "360 Degrees Material", "Hibi ChouChou"
Hello! Project Groups:
LOVE Musume
Trivia
She is close friends with fellow LOVE Musume member, Ai Takano, and SECRET Otoko member Hikaru Hoshimoto.
She has a younger brother named Yuto.
She was given the nickname 'Pucca-pon' by her friends because of how much she liked to cosplay as the popular Pucca character for costume parties.
She considers Takashi Nikaido as the hottest member out of Kis-My-Ft2.
If she wasn't in LOVE Musume; she would continue living a normal high school life back in Okinawa.
Ad blocker interference detected!
Wikia is a free-to-use site that makes money from advertising. We have a modified experience for viewers using ad blockers

Wikia is not accessible if you've made further modifications. Remove the custom ad blocker rule(s) and the page will load as expected.