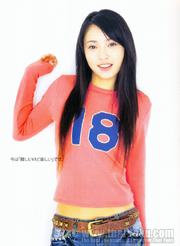 Megumi Shiratori
(白鳥めぐみ; Shiratori Megumi) is a current first generation member and current eader of Hello! Project and EXTREMEX'S trio girl group CR8ZY Love.
PROFILE:
Name: Megumi Shiratori
Nicknames: Megu-chan, GumiGumi, Tori-chan
Birthdate: June 17, 1997 (Age: 17)
Birthplace: Sapporo, Hokkaido, Japan
Charmpoint: Her long, natural black hair
Weakpoint: Her voice is a bit unsteady
Favorite Foods: Green tea ice cream, mentaiko bread, ramen
Least Favorite Foods: Sashimi, wasabi, chicken liver
Favorite Subject: History
Least Favorite Subject: English
Motto: "Dream, Learn, Sing."
Favorite English Word: Dream
CR8ZY Love Color: Electric Blue
Favorite Band: Passpo
Favorite Flower: Calla lily
Favorite Passpo Song: "Kimi wa Boku wo Sukininaru"
Favorite CR8ZY Love Song: "Watashi no Shin'yu ne...Watashi o?!"
Favorite Manga: "Ao Haru Ride", "Kamisama Hajimemashita", "Backstage Prince"
EXTREMEX Groups:
CR8ZY Love (2013- Present)
Trivia:
She considers her favorite animated character as Tomoe of "Kamisama Hajimemashita".
She owns a pet cat named Kyo, of whom was named after the "Fruits Basket" character.
She is an only child.
Tsunku once noted that her voice is a bit unsteady when it reaches the high notes in a song.
If she wasn't in CR8ZY Love; she would try a voice acting career.