Profile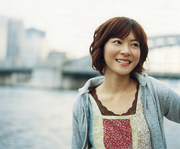 Name: Naho Okamura (岡村菜穂; Okamura Naho)
Nicknames: Hoho-chan, Mumu, Okamura-san
Birthday: May 21, 1995 (Age:19)
Birthplace: Fukuoka, Fukuoka, Japan
Charmpoint: Her free spirit
Weakpoint: Not good with fashion
Favorite Foods: Sukiyaki, calamari, corned beef
Least Favorite Foods: Tomatoes, pickles, raw meat
Favorite Subject: Japanese
Least Favorite Subject: Art
Favorite English Word: Japan
Favorite J-pop Group: AKB48
Favorite AKB48 Song: "Sayonara Crawl"
Favorite Manga: "Itazura na Kiss", "Beast Master", "Pika Ichi"
Trivia
She is an only child.
She said that if she could debut in any group; it would have to be Morning Musume.
She looks up to Ai Takahashi and Maki Goto from Morning Musume.
She once stated that if she wasn't a part of EXTREMEX Kenshuusei; she would focus on college.
She is said to hold grudges for the longest amount of time.
Ad blocker interference detected!
Wikia is a free-to-use site that makes money from advertising. We have a modified experience for viewers using ad blockers

Wikia is not accessible if you've made further modifications. Remove the custom ad blocker rule(s) and the page will load as expected.