Nugoshiko Maya
納谷



Also Known As

Maya, Maayan

Birthday

October 22, 1996 (Age 16)

Origin

Hamura, Tokyo, Japan

Occupation

Singer

Years Active

2008-2011

Label(s)

Up Front Works (2011)
Zetima (2013-present)

Associated Acts
Maya Nugoshiko (納谷) was born October 22, 1996. She was a former of Hello!Project Kenshuusei and the Hello! Project subunit Shin Sedai. After Nugoshiko graduated from the Kenshuusei, she was supposed to debut into "Up Beat Styles!" but then Nugoshiko quit.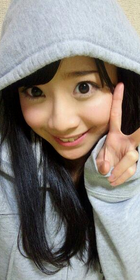 History
2008
Nugoshiko debuted as a Hello! Project Egg member by herself. While being announced, Tsunku said that Maya had lots of trouble being professional, seeing as she cried alot during the Hello!Project Egg *NEW YOU* Auditions.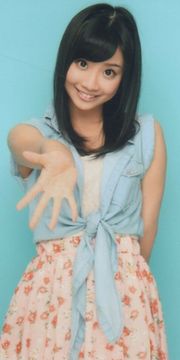 2009
March 14, Maya being one of the most unpopular eggs, Tsunku decided to change that. He put Maya in the Hello!Project unit Shin Sedai along with Hello!Project Foreigners member Miya. The group was known as MiyaMaya and won both Nugoshiko and Miya lots of fame.
2011
August 9, Nugoshiko graduated from the Hello! Pro Eggs and was announced to be put into the group "Up Beat Styles!".
September 12, during the training, Nugoshiko quit and left both Hello!Project and Up Front PROMOTION.
This is what she said:
"I am sorry but it is too hard. I was always hoping I could become a full time idol but I never expected this, which makes me sound like a coward. I know this will sadden Xiao Miya and all other members, but I am graduating. Sorry."
2012
September 15, Muramoto Chie revealed on her blog that Nugoshiko opened a new ameba blog. On her blog she updates new pictures of herself but her profile picture has a collage of Shin Sedai with Mandi included in it.
Bio
Name: Nugoshiko Maya (纳谷マヤ)
Nickname: Maayan (まーやん)
Birthplace: Hamura, Tokyo, Japan
Birthdate: October 22, 1996
Bloodtype: O
Height: 166 cm
Hello! Project Status

2008-01-18 Egg
2008-03-12 Member
2011-09-12 Graduated

Up-Front-Agency Status

2008-03-12 Member
2011-09-12 Graduated

Specialty: Can hit very HIGH notes
Looks Up To: Kamei Eri,Natsuyaki Miyabi,Huang Ning
Former Shin Sedai Color:

Light Green

Former Up Beat Styles! Color: 

Silver

Hello!Project Groups
Up Front PROMOTION Groups
Trivia
Was often cherished by Tsunku because of her dancing ability.
Said she looked up to 'Natsuyaki Miyabi' for her collected attitude.
Got the nickname 'Maayan' from Morning Musume member Kamei Eri.
Said she would go on a date with Xiao Miya.
In 2012, she opened an ameba blog to keep contact with her fans even though she is no longer a member of the Hello!Project.
Has every single Happy Jikan single.
Her favorite kaomoji emoticon is: Σ(゜゜)

Has a similar name to Chiisana Ai member Maia. (Both may be pronounced the same)
Through her own blog, Xiao Miya said that Maya grew to 166 cm.
Her favorite food is glazed crab and lobster.