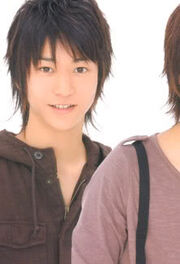 Raito Uehara (上原月; Uehara Raito) is a current member of the EXTREMEX group The SECRET Trainees Group and the Trainee group Sukidesu <3.
Profile
Name: Uehara Raito (上原月; Uehara Raito)
Nicknames: RaiRai, Hara-kun, Ue-chan
Birthdate: June 10, 1999 (Age: 15)
Birthplace: Sendai, Miyagi, Japan
Charmpoint: Good dancer
Weakpoint: His voice is rather unsteady
Favorite Foods: Sukiyaki, okonomiyaki, Pocky
Least Favorite Foods: Sashimi, pickles, hot sauce
Favorite Subject: Mathematics
Least Favorite Subject: English
Favorite English Word: Beauty
Favorite J-pop Group: NYC
Favorite NYC Song: "Haina!"
EXTREMEX Groups:

The SECRET Trainees Group (2013-Present)

Sukidesu <3 (2014-Present)
Trivia
He has a younger brother named Hideaki of whom he states has a sharp tongue.
He is a skilled dancer and is the star dancer of Sukidesu <3.
His voice is rather unsteady when he sings and dances, so he decided to enroll himself to take daily singing lessons to improve.
He says that he doesn't like talking with girls because he gets really awkward and blushes continually.
His ideal girl: likes music, unique, likes me for me.
SLIDESHOW
Ad blocker interference detected!
Wikia is a free-to-use site that makes money from advertising. We have a modified experience for viewers using ad blockers

Wikia is not accessible if you've made further modifications. Remove the custom ad blocker rule(s) and the page will load as expected.