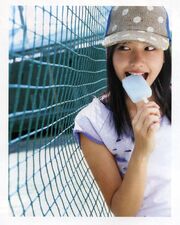 Rise Suzuki is a current first generation member of EXTREMEX group, EXTREMEX Kenshuusei.
Profile
Name: Rise Suzuki (鈴木ライズ; Suzuki Rise)
Nicknames: Riri, Suzu-chan, Sweet Tooth Girl
Birthday: December 5, 1997 (Age 16)
Birthplace: Sapporo, Hokkaido
Charmpoint: Her sweet tooth
Weakpoint: She's very clumsy
Favorite Foods: Teriyaki, popsicles, fried cheese wontons
Least Favorite Foods: Mushrooms, tomatoes, octopus
Favorite Subject: English
Least Favorite Subject: Physical Education
Favorite English Word: Love
Favorite J-pop Group: Buono!
Favorite Buono! Song: "Our Songs"
Favorite Manga: "Kimi ni Todoke", "Kamisama Hajimemashita", "Otomen"
EXTREMEX Groups:
EXTREMEX Kenshuusei
Trivia
She has a younger brother named Chiaki of whom is two years younger than her and is a part of The SECRET Trainees group.
She says that if she could debut in any Hello! Project group it would definitely have to be Buono!
She looks up to to Airi Suzuki from the Hello! Project groups C-ute and Buono! and Asami Konno of Morning Musume.
The other Kenshuusei members have noted that she has a very strong sweet tooth and has been to the dentist more than once as a child.
She has auditioned for CR8ZY Love's first generation auditions but failed after the third round.
Slideshow
Ad blocker interference detected!
Wikia is a free-to-use site that makes money from advertising. We have a modified experience for viewers using ad blockers

Wikia is not accessible if you've made further modifications. Remove the custom ad blocker rule(s) and the page will load as expected.