Ryuki Takashima(高島龍騎; Takashima Ryuki) is a current first generation member of the all-male Hello! Project group SECRET Otoko.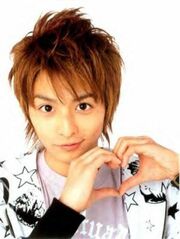 PROFILE
Name: Ryuki Takashima (高島龍騎; Takashima Ryuki)
Nicknames: Ryuki-kun, Doragon-senpai, Takashima
Birthday: January 27, 1997 (1997-01-27) (age 20)
Birthplace: Sapporo, Hokkaido, Japan
Charmpoint: His highly-skilled acting
Weakpoint: Injury prone
Favorite Foods: Mango-flavored jelly, wheat bread, teriyaki
Least Favorite Foods: Kimchii, wonton soup, cauliflower
Favorite Subject: Physical Education
Least Favorite Subject: Home Economics
Motto: "Love is pure; let's make sure we keep it that way."
Favorite English Word: Love
SECRET Otoko Color: Dark Blue
Favorite Band: ShiNEE
Favorite Shinee Song: "Replay"
Favorite SECRET Otoko Song: "I Speak From My Heart"
Hello! Project Groups:
SECRET Otoko
TRIVIA
The rest of the SECRET Otoko boys say that his acting is highly-skilled and that he actually sounds pretty believable. His ideal type of girl: cute, a good cook, is a fan of K-pop, kind-hearted, sweet.
He and fellow SECRET Otoko member, Hikaru Hoshimoto, are huge fans of K-pop.
He is a quarter Korean on his mother's side.
He is an only child.
He has been interested in singing and acting since he was three years old and used to be in a bunch of plays and musicals growing up.
He shares the same birthday as DreamS' Yamada Ayumu.
He is currently a second-year high school student.
He is a fan of Japanese rock bands ONE OK ROCK and MY FIRST STORY.
Ryosuke Yamada of Hey! Say! JUMP is his role model.
His dream is to have a concert in South Korea.
He is currently learning Korean.
FILIMOGRAPHY
[2014.??.??] Tenso no Dai Machigai  (as Dori Maekawa)
Ad blocker interference detected!
Wikia is a free-to-use site that makes money from advertising. We have a modified experience for viewers using ad blockers

Wikia is not accessible if you've made further modifications. Remove the custom ad blocker rule(s) and the page will load as expected.