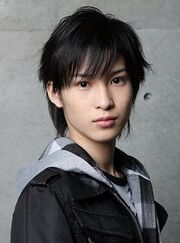 Ryusuke Irie(入江隆介; Irie Ryusuke) is a current first generation member of the all-male Hello! Project group SECRET Otoko.
PROFILE
Name: Ryusuke Irie (入江隆介; Irie Ryusuke)
Nicknames: Ryu-kun, Irie-kun, Ryuyu
Birthday: May 27, 1997 (Age 17)
Birthplace: Takamatsu, Kagawa, Japan
Charmpoint: His ability to rap very quickly
Weakpoint: Being described as having a somewhat cold demeanor
Favorite Foods: Ramen, taoyaki, sweet apples
Least Favorite Foods: Limes, sashimi, turkey
Favorite Subject: Music
Least Favorite Subject: Mathematics
Motto: "Just because it seems that I have a cold demeanor, doesn't mean I have a cold heart."
Favorite English Word: Joy
SECRET Otoko Color: Black
Favorite Band: Super Junior
Favorite Super Junior Song: "Sorry, Sorry"
Favorite SECRET Otoko Song: "I Want You Back, Girl"
Hello! Project Groups:
SECRET Otoko (2013-Present)
TRIVIA
He is the oldest child in his family and has two younger sisters. He is also the only boy. His sisters' names are Karin and Mayuka.
He has already been experienced formerly in the Japanese entertaiment industry as a semi-popular voice actor.
He has a fear of huge dogs; stating he received it when he got bitten by one as a child.
He loves watching anime.
His ideal girl: cool, peaceful to be around, smart, kind-hearted, easy to get along with.
He is currently a second-year high school student.
His dream is to have a concert in America.
He has trouble sleeping after he eats sweets.
He doesn't like it when he's in charge of watching his siblings.
He has never had any acting experience before his role in Tenso no Dai Machigai.
FILMOGRAPHY
[2014.??.??] Tenso no Dai Machigai  (as Miyuki Sohma) Notes: First leading role
SLIDESHOW
Ad blocker interference detected!
Wikia is a free-to-use site that makes money from advertising. We have a modified experience for viewers using ad blockers

Wikia is not accessible if you've made further modifications. Remove the custom ad blocker rule(s) and the page will load as expected.