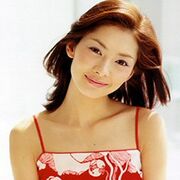 Sakiko Kawasaki(川崎咲子; Kawasaki Sakiko) is a first generation member and current leader of Hello! Project girl group
LOVE Musume
.
PROFILE
Name: Sakiko Kawasaki
Nicknames: Saki-san, Sensei-sama, Sakura-sempai
Birthday: September 14, 1992 (Age: 22)
Birthplace: Kanagawa, Japan
Charmpoint: Eyes
Weakpoint: Sports
Favorite Foods: Teriyaki, broccoli, and fried cheese wontons
Least Favorite Foods: Mushrooms, guava, papaya
Favorite Subject: History
Least Favorite Subject: Mathematics
Motto: "Dream, dream, dream!!!"
Favorite English Word: Dream
LOVE Musume Color: Cherry Blossom Pink
Favorite Band: Morning Musume
Favorite Flower: Japanese Cherry Blossom
Favorite Morning Musume Song: "Brainstorming"

Favorite LOVE Musume Song: 

"Watashi wa Anata o Eru Koto ga Dekinai"
Favortie Manga: "Kimi ni Todoke", "Ao Haru Ride", "Strobe Edge"
Hello!Project Groups:
HISTORY
Early Life:
On September 14, 1992, Sakiko was born the oldest to a set of fraternal twins by five minutes in Kanagawa, Japan. She was born to a couple whose names remain undisclosed. Her father owns their small family business while her mother works as a middle school teacher.
2004:
Sakiko quickly gained an interest in Hello! Project after listening to Morning Musume's "LOVE Machine" with her family at a New Year's party; this lead her to audition for the group sometime in the future. After a while she immediately took up singing and dance lessons.
2006: 
In early 2006, Sakiko decided to take up English lessons in order to become a bilingual speaker. Later on, at the young age of fourteen, she auditioned for Morning Musume's Happy 8ki Audition but had failed to pass the second round. However, losing the audition did not stop her from her ambitious dream to join Hello! Project someday. 
2012:
In late 2012, Sakiko auditioned for LOVE Musume's first generation auditions and finally made the cut to join the group as leader; she marked this as one of her dreams come true. Overjoyed, Sakiko happily cried at once after joining Hello! Project along with the other members. Soon after, she and her family relocated to a new apartment in Tokyo.
TRIVIA
She is currently the oldest member of LOVE Musume and has a twin brother named Kai that is a part of Morning Musume's brother group SECRET Otoko.
She is bilingual and can speak very fluent English.
She has said that if she wasn't a LOVE Musume member; she would want to become an actress for a really popular tokusatsu show.
She hates wearing turtlenecks.
She is close friends with former Morning Musume members, Reina Tanaka & Koharu Kusumi.

SLIDESHOW
Filmography
[2014.??.??] Tenso no Dai Machigai  (as Sakura Kurama)
Ad blocker interference detected!
Wikia is a free-to-use site that makes money from advertising. We have a modified experience for viewers using ad blockers

Wikia is not accessible if you've made further modifications. Remove the custom ad blocker rule(s) and the page will load as expected.