Sasaki Naomi
佐々木直美

Also Known As

SasaNao, Nao, Sakimi, Saki, Sasami

Born

December 2, 1997 (Age 15)

Origin

Nagasaki, Japan

Genre

Japanese Pop

Occupation

Singer, Dancer, Trainee

Years Active

2009 - Present

Label

@1, DreamS, Hello!Project, UP-FRONT WORKS

Associated Acts

NeXus, Polaris α, DreamS, Vega β
Sasaki Naomi (佐々木直美, born December 2, 1997) is a 1st Generation DreamS Kenshuusei. She joined DreamS Kenshuusei on October 28, 2009. She auditioned for the DreamS Audition ~SHINING STAR~ 2009 Auditions. She is currently part of the DreamS Kenshuusei unit Ωmega .
Biography

 
2010
On October 28, She, along with 15 other girls, passed the DreamS Kenshuusei auditions after failing the DreamS audition. They made up the First Generation Kenshuusei.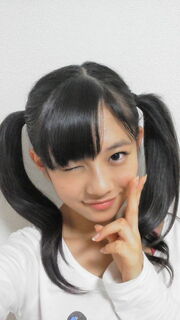 2011
She was a backdancer for the first concert of Polaris α. She was also a backdancer for the Vega β concert in South Korea.
2012
She was a backdancer for NeXus' first concert. She was also a backdancer for the PolaVegaXus collaboration concert.
2013
It is rumored that she and Kobayashi Rie will make a new duo group called "NaoRie". It is yet to be confirmed.
On July 12, it was announced that Sasaki, Kobayashi Rie, Toyama Kanon & Itou Nao were to be part of a new DreamS Kenshuusei unit called Ωmega. They are currently starting off as an indies group, working towards their major debut.
Profile
Name: Sasaki Naomi 

(

佐々木直美)
Birthdate: December 2, 1997 (Age 15)
Birthplace: Nagasaki, Japan
Western Zodiac: Sagittarius
Specialty: free-style dancing
Dislikes: Bananas, ghosts
Favorite Food: Sweet Potato
Least Favorite Food: Bananas
Favorite Color: Green, Orange
Favorite Subject:
Looks Up To: Sugiura Asuka, Takahashi Rie
Blood type: O
Height: 155cm (5"1)
DreamS groups:
Singles Participated In
Ωmega
Neon Lights (Debut)
Trivia
Her best friend in Kenshuusei was Fujimoto Emi.
Was almost chosen to be in NeXus, being the 6th most popular Kenshuusei in 2009.
She has an older sister and younger brother.
She is a fan of Polaris α.
When asked what group she wants to debut in, she replied Polaris α.
Is known to be a very powerful dancer.
Was in a prestigious dance school prior to being in DreamS.
Has always had long hair, and has no plans of changing it her hairstyle.
Is currently 6th on the DreamS Kenshuusei ranking, as of July 1, 2013.
Ad blocker interference detected!
Wikia is a free-to-use site that makes money from advertising. We have a modified experience for viewers using ad blockers

Wikia is not accessible if you've made further modifications. Remove the custom ad blocker rule(s) and the page will load as expected.