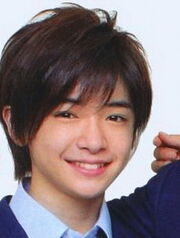 Shiro Nishishima( Nishishima史郎; Nishishima Shiro) is a current first generation member of the all-male Hello! Project group SECRET Otoko.
PROFILE
Name: Shiro Nishinoshima (西ノ島史郎; Nishinoshima Shiro)
Stage Name: Shiro Nishishima (西志摩史郎; Nishishima Shiro)
Nicknames: Shiro-chan, Shiro-kun, Shishi
Birthday: November 15, 1998 (Age: 16)
Birthplace: Higashihiroshima, Hiroshima, Japan
Charmpoint: His smile
Weakpoint: Reads very slowly
Favorite Foods: Grilled gyoza, humus, onigiri
Least Favorite Foods: Shiitake mushrooms, leeks, radish
Favorite Subject: Lunch
Least Favorite Subject: English
Motto: "Love is a song the heart sings."
Favorite English Word: Song
SECRET Otoko Color: Army Green
Favorite Band: Big Bang
Favorite Big Bang Song: "HARU HARU"
Favorite SECRET Otoko Song: "A Wall Between Us"
Hello! Project Groups:
SECRET Otoko (2013- Present)
TRIVIA
He was born and raised in the same city and prefecture as current Morning Musume Member Riho Sayashi.
He is the second oldest amongest seven sibilings.
He owns a rabbit named Momiji.
His ideal girl: Funny, loves video games, has a good ear for music, smart, a good listener.
He is a very avid video game player.
He is currently a first-year high school student.
His looks are often compared to those of Hey! Say! JUMP member Yuri Chinen.
He was a member in his middle school's gymnastics team.
He wears glasses, but prefers to wear contacts.
After joining SECRET Otoko, he was featured on the front page of his prefecture's local newspaper.
He has three younger brothers (Arashi, Kou, and Ryuta), one younger sister (Mayumi), one older sister (Jurina), and one older brother (Shotaro).
His dream is for SECRET Otoko to have their own variety show.
FILMOGRAPHY
[2014.??.??] Tenso no Dai Machigai  (as Naoki Kaito)
Ad blocker interference detected!
Wikia is a free-to-use site that makes money from advertising. We have a modified experience for viewers using ad blockers

Wikia is not accessible if you've made further modifications. Remove the custom ad blocker rule(s) and the page will load as expected.