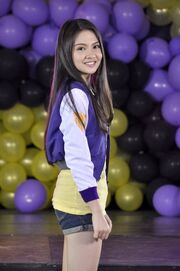 Sunshine De La Cruz 
(Japanese: デ·ラ·クルスサンシャイン; De La Cruz Sunshine) is a current second generation member of Hello! Project girl group LOVE Musume.
PROFILE:
Name: Sunshine De La Cruz
Nicknames: Sunshine-chan, Sunny, GO!Shine
Birthdate: October 3, 1997 (Age: 18)
Birthplace: Isabela, Luzon, Philippines
Charmpoint: Her dimples
Weakpoint: Gets irritated easily
Favorite Foods: Crispy pata, chicken adobo, teriyaki
Least Favorite Foods: Bitter melon, sardines, leeks
Favorite Things About Her Hometown: Dibulo Falls & Bonsai Park
Favorite Subject: History
Least Favorite Subject: Physical Education
Motto: "Mas masaya sa Pilipinas!...Ngunit, masaya din sa Japan!" (Filipino for: "It's more fun in the Philippines!...But, Japan is fun too!")
Favorite English Word: Philippines
LOVE Musume Color: Yellow
Favorite Filipina Artist: Yeng Constantino
Favorite Flower: Calla lily
Favorite Yeng Constantino Song: "Hawak Kamay"
Favorite LOVE Musume Song: "Iro Kaiten"
Hello! Project Groups:
LOVE Musume
Trivia
She is half-Japanese on her mother's side and Filipino on her father's side.
She has lived in the Philippines since her birth through her tenth year, then moved to Tokyo there after.
Although she is LOVE Musume's third foreign member, she is also required to take daily Japanese lessons with first generation members, Kimberly Park and Mei Liu; in order to increase her fluency in the language.
She has two younger siblings; a sister named Jasmine and a brother named Ryo.
If she wasn't in LOVE Musume; she would continue life with her family back in the Philippines.
Filmography
[2014.??.??] Tenso no Dai Machigai  (as Ruby Corazon)
Ad blocker interference detected!
Wikia is a free-to-use site that makes money from advertising. We have a modified experience for viewers using ad blockers

Wikia is not accessible if you've made further modifications. Remove the custom ad blocker rule(s) and the page will load as expected.