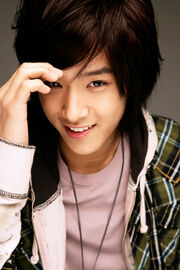 Tomoe Tachibana(橘巴 ; Tachibana Tomoe) is a current first generation member of the all-male Hello! Project group
SECRET Otoko
.
PROFILE
Name: Tomoe Tachibana (橘巴; Tachibana Tomoe)
Nicknames: Tomoe-kun, Tomo, Tachibana
Birthday: June 17, 1999 (Age 15)
Birthplace: Fukuoka, Fukuoka, Japan
Charmpoint: Wearing hoodies
Weakpoint: Camera-shy
Favorite Foods: Yokan, oden, ice cream
Least Favorite Foods: Sushi, taro, sashimi
Favorite Subject: History
Least Favorite Subject: Science
Motto: "Live life as a good person."
Favorite English Word: Fukuoka
SECRET Otoko Color: Crimson
Favorite Band: Shinee
Favorite Shinee Song: "Dream Girl"
Favorite SECRET Otoko Song: "Nihon, Let's Party!"
Hello! Project Groups:
SECRET Otoko (2013- Present)
TRIVIA
He is from the same city and prefecture as former Morning Musume member Reina Tanaka.
He knows how to play accoustic guitar.
He is a fan of K-pop.
He has a younger sister named Ami who is a member of Hello! Project girl group Dorimuhato.
His ideal girl: Loving, a good listener, smart, friendly, has a good sense of humor.
He is currently a third-year middle school student.
He gets along the best with fellow groupmatee Shiro Nishishima.
His dream is to star in a Hollywood film.
Hideaki Takizawa from Tackey & Tsubasa is his role model.
His mother was a former model.
He says that his sister is pretty enrgeticc and can get too hyper sometimes.
FILMOGRAPHY
[2014.??.??] Tenso no Dai Machigai 
Ad blocker interference detected!
Wikia is a free-to-use site that makes money from advertising. We have a modified experience for viewers using ad blockers

Wikia is not accessible if you've made further modifications. Remove the custom ad blocker rule(s) and the page will load as expected.