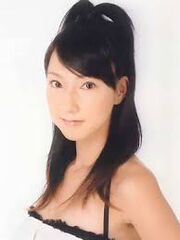 'Tomoko Kurumizawa(胡桃沢智子; Kurumizawa Tomoko) is a current first generation member of
EXTREMEX
quartet, all-female group
Hugs & Kiss
.
PROFILE
Name: Tomoko Kurumizawa
Nicknames: Tomoko-chan, Toto, Kurumi
Birthday: August 5, 1997 (Age: 17)
Birthplace: Kyoto, Japan
Charmpoint: Having her hair up in high pigtails
Weakpoint: Can be convicted of lying very easily
Favorite Subject: Home Economics
Least Favorite Subject: Science
Favorite Foods: Spinach, onigiri with pickled plum in the middle, coconut shrimp
Least Favorite Foods: Octopus, sashimi, sardines
Motto: "Love is patient and love is kind."
Favorite English Word: Love
Hugs & Kiss Color: Sea Green
Favorite Band: PEACEFUL
Favorite Flower: Camellia
Favorite PEACEFUL Song: "START!"
Favorite Hugs & Kiss Song: "Sutekina Yume"
Favorite Manga: "Koko Debut", "Kimi ni Todoke", "Bokura ga Ita"
EXTREMEX Groups:
Hugs & Kiss (2012- Present)
TRIVIA
She has a huge love for shojo manga and anime and even shares the same last name and nickname of one of her favorite mangas, "Kimi ni Todoke" 's, Kurumi.
She says that her favorite Pokemon is Squirtle because "he's cute and I love turtles!".
She loves to cook.
Her favorite color is light pink.
If she wasn't in Hugs & Kiss; she'd audition for a spot in the Hello! Pro Kenshuusei.
Ad blocker interference detected!
Wikia is a free-to-use site that makes money from advertising. We have a modified experience for viewers using ad blockers

Wikia is not accessible if you've made further modifications. Remove the custom ad blocker rule(s) and the page will load as expected.