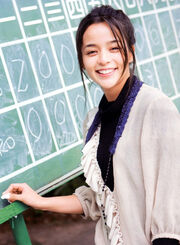 Profile
Name: Tomomi Hashimoto (橋本智美; Hashimoto Tomomi)
Nicknames: Tomomo, Momimi, Hashimo-chan
Birthdate: May 7, 1997 (Age: 17)
Birthplace: Shizuoka, Shizuoka, Japan
Charmpoint: Her dimples
Weakpoint: Gets annoyed easily
Favorite Foods: Teriyaki, crab, eggs
Least Favorite Foods: Red bell pepper, sushi, raw seaweed
Favorite Subject: Japanese
Least Favorie Subject: Mathematics
Favorite English Word: Love
Favorite J-pop Group: Morning Musume
Favorite Morning Musume Song: "Ai no Gundan"
Favorite Manga: "Itazura na Kiss", "Re Collection", "Hana Yori Dango"
EXTREMEX Groups:
EXTREMEX Kenshuusei
CR8ZY LOVE
Trivia
She has a younger sister named Mei.
She says that if she could debut in a group; it would have to be Morning Musume.
She looks up to former Morning Musume members Ai Kago and Nozomi Tsuji.
The other Kenshuusei stated that she hates being in a room full of lots of people.
She has auditioned for Morning Musume's twelfth gen. auditions but failed to pass the second round.
Ad blocker interference detected!
Wikia is a free-to-use site that makes money from advertising. We have a modified experience for viewers using ad blockers

Wikia is not accessible if you've made further modifications. Remove the custom ad blocker rule(s) and the page will load as expected.