Origin

South Korea

Genre(s)

Kpop, Jpop, Cpop, Mandopop, R&B, Pop

Years Active

2013-present

Agency

JYP Entertainment Up-Front Promotion (Japan) Yue Hua Entertainment (China)

Associated Acts

BTF, PFT
XQZ (eXQuiZite, Exquisite, 절묘한, Jeolmyohan, 絶妙の, Zetsumyo no, 玲珑, Linglong) is an Apop girlgroup formed in 2013 along with BTF. The group is fully composed of Ulzzang models. The group is produced by JYP's Park Jin Young, although he believes that XQZ and BTF would be more succesful in Japan, so both groups are focused on promoting Kpop and JYP Entertainment in Japan while working under Up-Front Promotion and often joining Hello! Project artists during concerts. When XQZ and BTF work together, they are known as PFT .
Members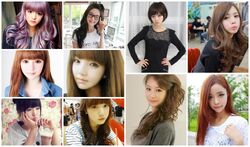 History
2010
June, All 10 members were scouted by Park Jin Young to enter JYP Entertainment as a full Ulzzang-only group. He then realized they had more of a chance to be popular in Japan, so they were all trainees for 3 years, learning how to dance, sing, speak fluent Japanese and basic Chinese.
2013
May, Park Jin Young decided that it was time for their debut so he sent them off the Japan to work with Tsunku, Up-Front Promotion's Producer.
Trivia
Choi Min Rin and Choi Ha Rin are not related at all.
They learned how to speak fluent Japanese and basic Chinese in 2 years time. 
XQZ
Members
Jang Chan Seul (L), Han Soo Gi (SL), Seo Ki Seung, Shin Yeon Young, Park Sung Yeon, Bae Min Ni, Seo Chan Hyo, Choi Min Rin, Choi Ha Rin, Park Sung Tae
Singles
N/A
Collaboration Singles
N/A
Related Units/Groups
BTF, PFT
Ad blocker interference detected!
Wikia is a free-to-use site that makes money from advertising. We have a modified experience for viewers using ad blockers

Wikia is not accessible if you've made further modifications. Remove the custom ad blocker rule(s) and the page will load as expected.