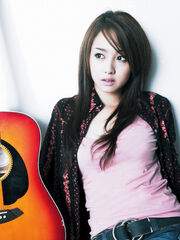 Yui Jonouchi(城之内ゆい; Jonouchi Yui) is a current first generation member and current sub-leader of
EXTREMEX
quartet, all-female group
Hugs & Kiss
.
PROFILE
Name: Yui Jonouchi
Nicknames: Yui-san, Yuyu, Jochichi
Birthday: April 13, 1994 (Age: 20)
Birthplace: Kanagawa, Japan
Charmpoint: Her Bangs
Weakpoint: Has very poor dancing skills
Favorite Subject: History
Least Favorite Subject: Mathematics
Favorite Foods: Teriyaki, chocolate, mochi
Least Favorite Foods: Tomatoes, natto, sushi
Motto: "Sing a song to bring a smile to the heart."
Favorite English Word: Sing
Hugs & Kiss Color: Lipstick Red
Favorite Band: Morning Musume
Favorite Flower: Red Rose
Favorite Morning Musume Song: "Only You"
Favorite Hugs & Kiss Song: "Watashi wa Ai Dake"
Favorite Manga: "Cat Street", "Crazy for You", "Ao Haru Ride"
EXTREMEX Groups:
Hugs & Kiss (2012- Present)
TRIVIA
She is the second-oldest member of Hugs & Kiss; only next to leader Sakura Nishimura, at the age of nineteen.
She was born only a day after the birthdate of Cute and Buono! member Airi Suzuki.
She is an only child.
She knows how to play both accoustic and electric guitar.
If she wasn't in Hugs & Kiss; she would try making it big in Hello! Project.
Ad blocker interference detected!
Wikia is a free-to-use site that makes money from advertising. We have a modified experience for viewers using ad blockers

Wikia is not accessible if you've made further modifications. Remove the custom ad blocker rule(s) and the page will load as expected.