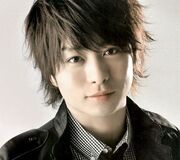 Yukito Nogami(野上幸人; Nogami Yukito) is a current first generation member of the all-male Hello! Project group SECRET Otoko.
PROFILE
Name: Yukito Nogami (野上幸人; Nogami Yukito)
Nicknames: Yukito-kun, Yuki-chan, Nogami
Birthday: June 12, 1995 (Age 19)
Birthplace: Akihabara, Tokyo, Japan
Charmpoint: He is easily impressed
Weakpoint: Being too lazy at times
Favorite Foods: Sukiyaki, mikan, broccoli
Least Favorite Foods: Peppers, durian, wasabi
Favorite Subject: Literature
Least Favorite Subject: Science
Motto: "I believe that we can change the world."
Favorite English Word: Tokyo
SECRET Otoko Color: Indigo
Favorite Band: Arashi
Favorite Arashi Song: "Love So Sweet"
Favorite SECRET Otoko Song: "Your One & Only"
Hello! Project Groups:
SECRET Otoko (2013- Present)
TRIVIA
Although he is older than second sub-leader, Hikaru Hoshimoto, Tsunku decided that if one of the sub-leaders would either leave or graduate from SECRET Otoko; he would take on that role as the new sub-leader.
He said that as a child he was in fact fasicinated by cute things and shojo manga, but has since gotten more into boyish stuff; such as shonen manga and girls.
He once got himself locked-up in his own room when he was three and kept yelling until someone opened the door. (He thought about escaping through his bedroom window!)
He has been participating in local theater plays in his hometown before joining the group.
His ideal girl: smart, pretty, kind, multi-talented, good with all types of people.
He is currently enrolled at Meiji University.
He has a fear of ghosts.
His dream is to one day become the leader of SECRET Otoko in the future.
His idol is Hideaki Takizawa of the Johnny & Associates group Tackey & Tsubasa.
He has an older sister named Rika.
He likes watching American TV shows from time to time, especially gameshows.
FILMOGRAPHY
[2014.??.??] Tenso no Dai Machigai  (as Yuto Nogami)
Ad blocker interference detected!
Wikia is a free-to-use site that makes money from advertising. We have a modified experience for viewers using ad blockers

Wikia is not accessible if you've made further modifications. Remove the custom ad blocker rule(s) and the page will load as expected.