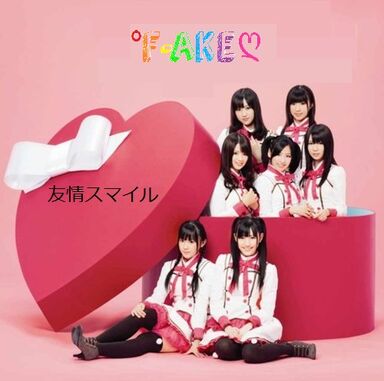 Yuujou Smile (友情スマイル) is the first mini album of ℉-akeღ. It is set to be released in late April of 2014. This mini album features two F-ake original songs and 4 cover songs.
It is being released in only one version: regular.
Tracklist
Yuujou Smile (友情スマイル)
Midnight Temptation (真夜中の誘惑) (Cover)
Maji desu ka ska! (まじですかスカ!) (Cover)
Aa, yo ga akeru (ああ、夜が明ける) (Cover)
Kimi no Tomodachi (君の友達) (Cover)

Watashi no kokoro wa naite iru (私の心は泣いている)
Ad blocker interference detected!
Wikia is a free-to-use site that makes money from advertising. We have a modified experience for viewers using ad blockers

Wikia is not accessible if you've made further modifications. Remove the custom ad blocker rule(s) and the page will load as expected.